Facials
Elixir Salon is proud to provide the very best that Circadia & Aveda skin care has to offer. Using time-tested techniques and the latest innovations in botanical ingredients, we can treat your skin while indulging the senses. All facials use customized infusions and massage elements to balance the skin and the soul.
Hydrafacials
Only HydraFacial uses patented technology to cleanse, extract, and hydrate. HydraFacial super serums are made with nourishing ingredients that create an instantly gratifying glow in just 3 steps:
CLEANSE + PEEL
Uncover a new layer of skin with gentle exfoliation and relaxing resurfacing.
EXTRACT + HYDRATE
Remove debris from pores with painless suction. Nourish with intense moisturizers that quench skin.
FUSE + PROTECT
Saturate the skin's surface with antioxidants and peptides to maximize your glow.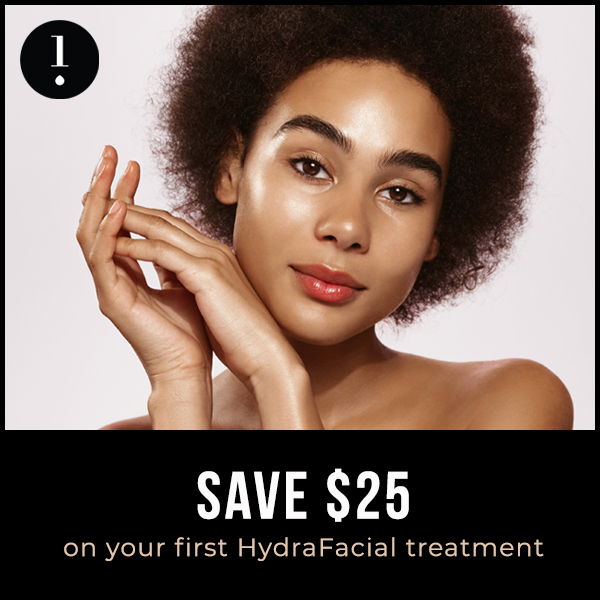 BOOK YOUR NEW SKIN
The HydraFacial treatment rejuvenates and protects the health of your skin, providing immediate results and long-term benefits without downtime or irritation.
INDIVIDUAL HYDRAFACIALS
platinum hydrafacial
60 min| $325
The ultimate HydraFacial experience! The detoxification process begins with lymphatic drainage, then, the Platinum HydraFacial deeply cleanses, exfoliates, extracts and hydrates the skin while incorporating a booster designed to target your specific skin concerns. This treatment concludes with LED Light Therapy to further reduce the visible signs of aging.
deluxe hydrafacial
45 min | $260
This invigorating treatment includes deeply cleansing, exfoliating, and extracting impurities from the skin while simultaneously infusing nourishing ingredients to hydrate the skin. The Deluxe HydraFacial also includes a personalized booster to address your specific skin concerns and LED Light Therapy to further reduce visible signs of aging.
signature hydrafacial
30 min | $195
This treatment includes deeply cleansing, exfoliating, and extracting impurities from the skin while simultaneously infusing nourishing ingredients to hydrate the skin. Upgrading to The Platinum or Deluxe HydraFacial enhances your experience with a personalized booster, LED Light Therapy, and Lymphatic Drainage options.
Custom Facial Treatments
These facials are proven to treat a variety of skin concerns. Whether your skin is dry, you are worried about fine lines, suffer from acne, oiliness or have sensitive skin our expert estheticians can customize an experience that is perfect for you. Choose this facial if you were looking for a basic facial that is far from basic.
Custom Facial
60 min
$125
90 min
$175
Series of 10
60 min
$1125
90 min
$1575
| | 60 min | 90 min |
| --- | --- | --- |
| Custom Facial | $125 | $175 |
| Series of 10 | $1125 | $1575 |
FACIAL ADD-ONS
plant peel
$35
botanical skin resurfacing
$25
purifying back treatment
$100
extraction
$25
Extractions can be added to any facial treatment or back treatment. Professional targeting and extracting of blackheads, whiteheads and other skin blemishes can immediately improve the skins condition. Choose extractions for treatments focused on results, but skip them if you just want to relax.
DUAL EXFOLIATION PEEL
Aveda's most innovative and results-oriented treatment, the Dual Exfoliation Peel provides the same exfoliation and complexion improving benefits of medi-spa treatment, but with no downtime. Combining the techniques of our Botanical Skin Resurfacing and Perfecting Plant Peel℠ into one supercharged exfoliation treatment, this facial will conquer a variety of skin care concerns.
In a clinical study the Dual Exfoliation Peel performed better than a 30% glycolic peel and microdermabrasion procedure combined! Whether you have dark spots, fine lines and wrinkles or suffer from acne, this customizable treatment will provide immediate results that will last. Choose this facial if you want a serious skin care treatment that is also seriously relaxing.
Dual Exfoliation Peel
60 min
$150
90 min
$200
| | 60 min | 90 min |
| --- | --- | --- |
| Dual Exfoliation Peel | $150 | $200 |
Eye Treatment
$25
The sensitive eye area deserves special treatment. Eye treatments use Aveda products and techniques to help improve the appearance of fine lines, dark circles and tired, puffy eyes. Add one to the facial of your choice or experience it as a 15-minute standalone treatment. For best results; remove contacts and eye makeup prior to treatment.